Group Summary
Boretech Group
Boretech group has 3 operation sites: Anshun fiber in Hangzhou, Boretech Pinhu & Boretech Taiwan. We run our business globally, provide high quality goods and service for our customers.

Anshun
(Hangzhou)
Fiber Business
Boretech
(Pinghu)
Machine & Engineering
Boretech
(Taiwan)
Recycled PET Chips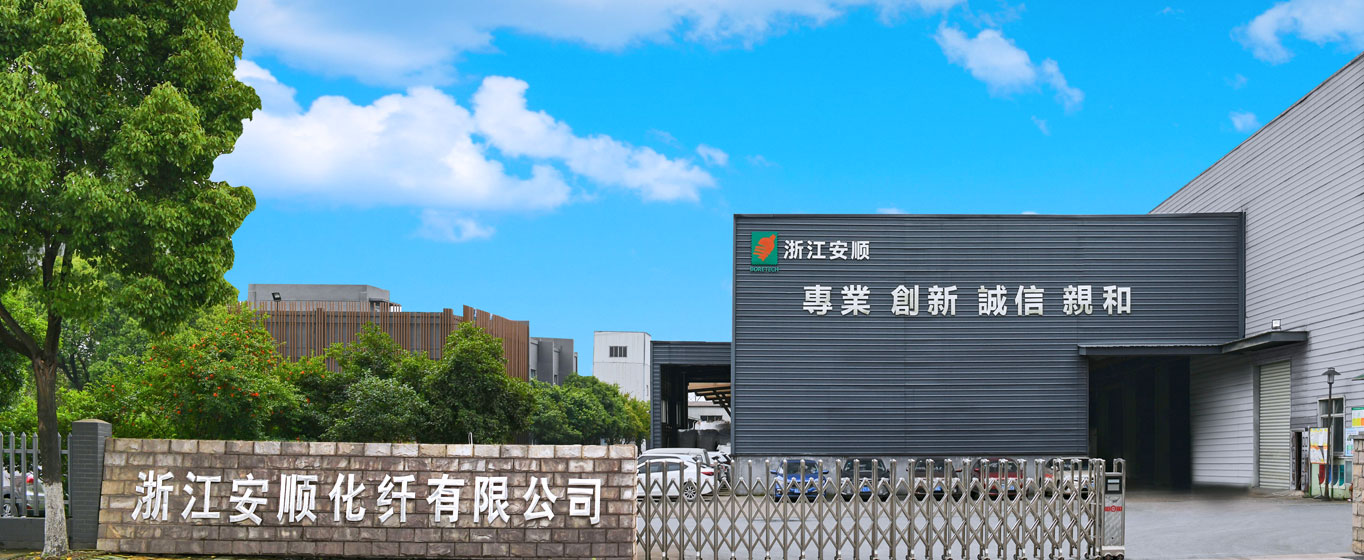 FIBER TECHNOLOGY
TECHNICAL ANSHUN!
ANSHUN, one member of Taiwan BoReTech group, was established in 1994. We have 260 employees to produce 1.0D–60D PET and Hygienic Bico fibers. We have 3 fiber lines with total capacity 60kt per year.

♦ We have advanced fiber R & D center in 1,500 square meters, equipped with Mono and Bico fiber pilot lines, Needlepunch & Air-through NW pilot lines. This proves our R&D capability, to modify polymer formulation, upgrade technical engineering, and guarantee finish goods quality as well as to improve the productivity at our customers.

♦ Fiber laboratory is equipped with all kinds of test devices to inspect the raw material and control high quality of very delivery for customer. With kinds of NW pilot lines, especially the vertical flame burning room, we are in the leading position of the industry.

♦ Anshun is one of the leading manufacturers of recycled PET staple fiber, which has GRS and OEKO-TEX certifications.

Along with BoReTech environmental friendship & social responsibility, we offer our customers by technical innovation, customized & specialized products.
Fiber Production - Spinning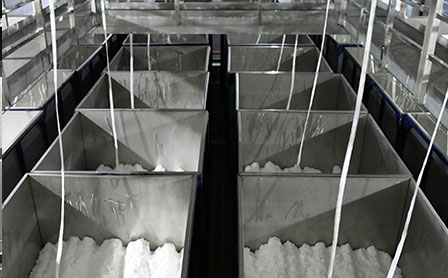 Automatic Reciprocating Falling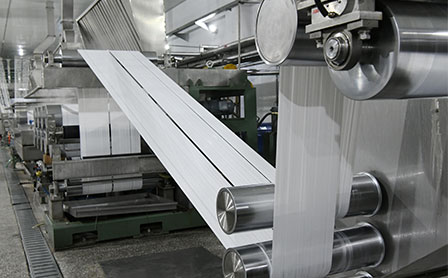 Drawing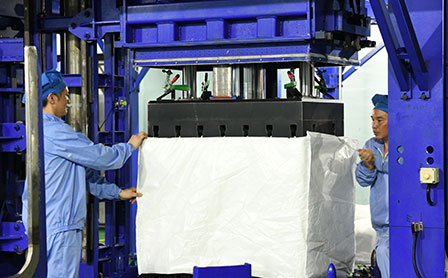 Baling
Honor
Anshun Chemical Fiber has obtained a number of patents and passed numerous certifications to implement our high-standard product quality.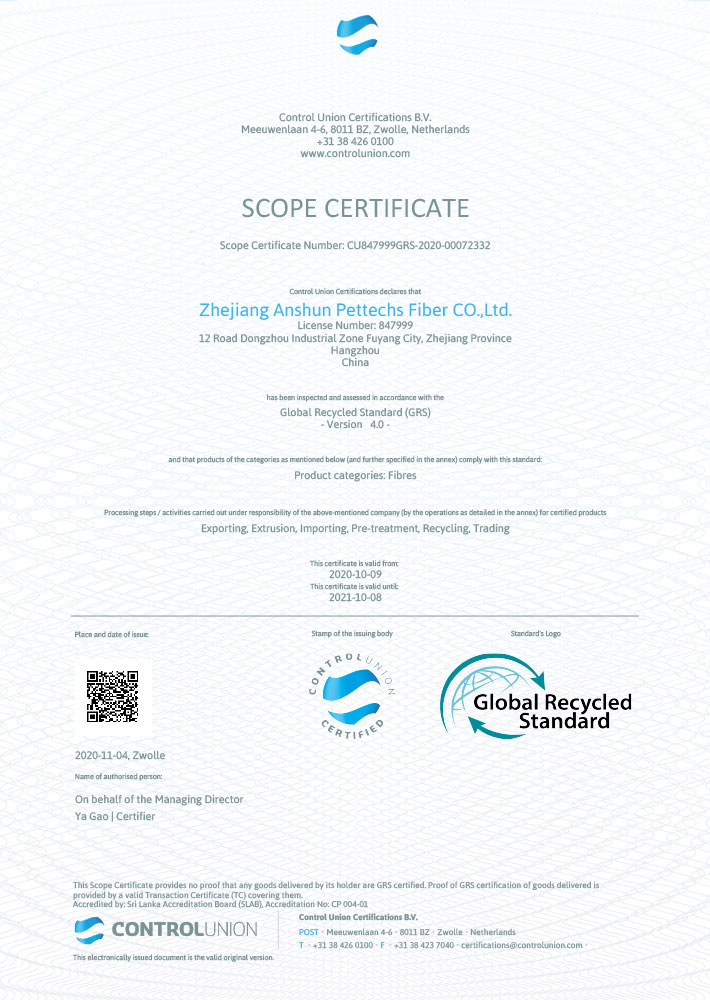 GRS Scope Certificate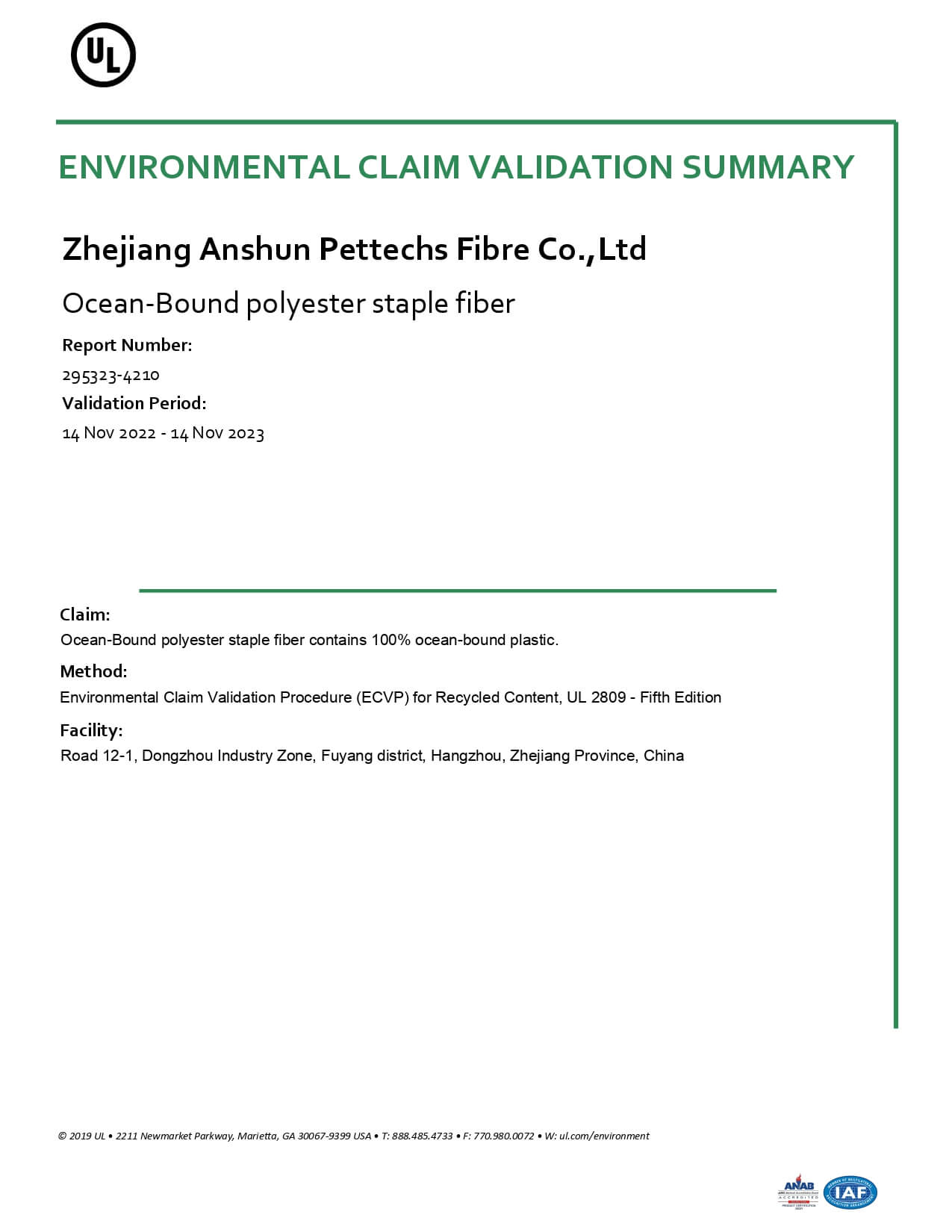 ENVIRONMENTAL CLAIM VALIDATION SUMMARY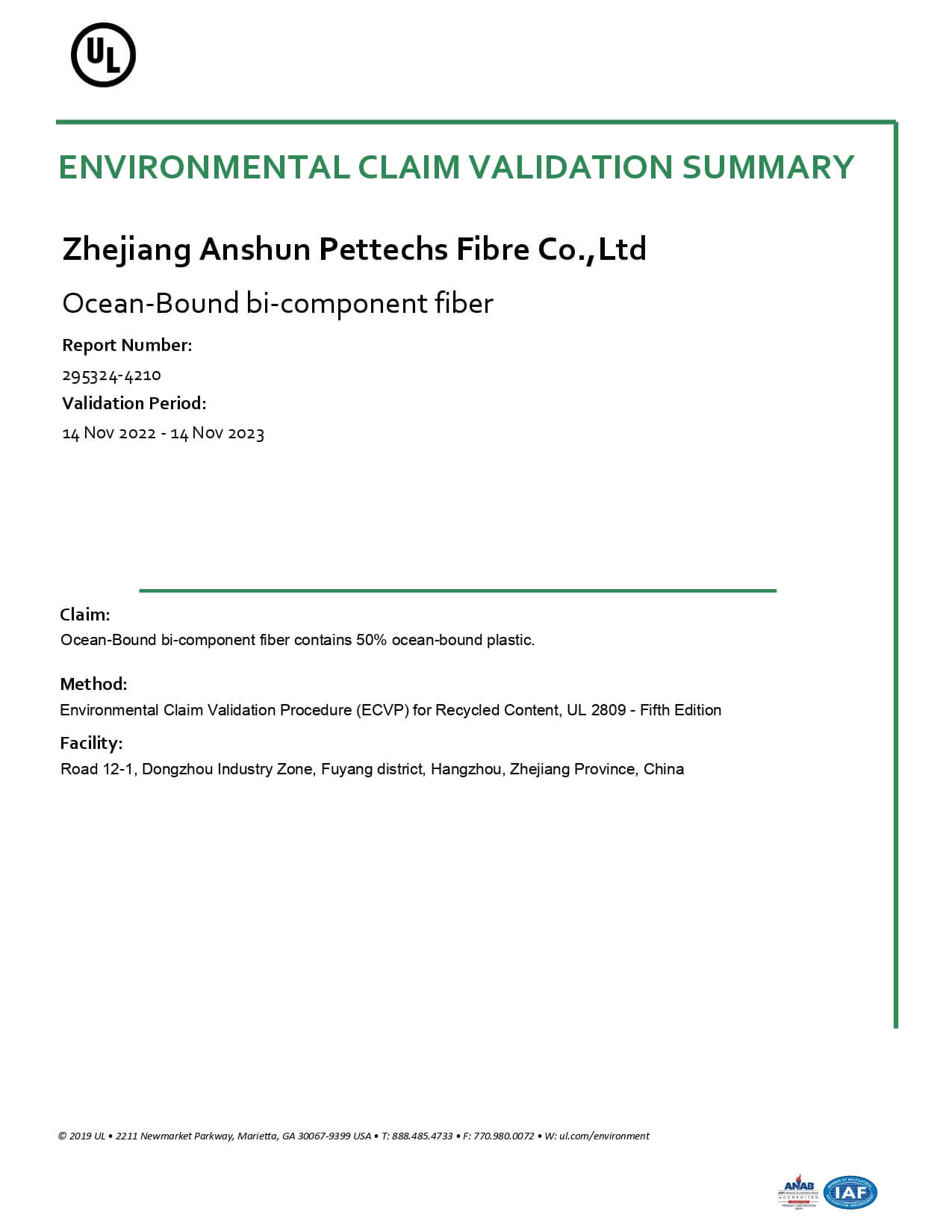 ENVIRONMENTAL CLAIM VALIDATION SUMMARY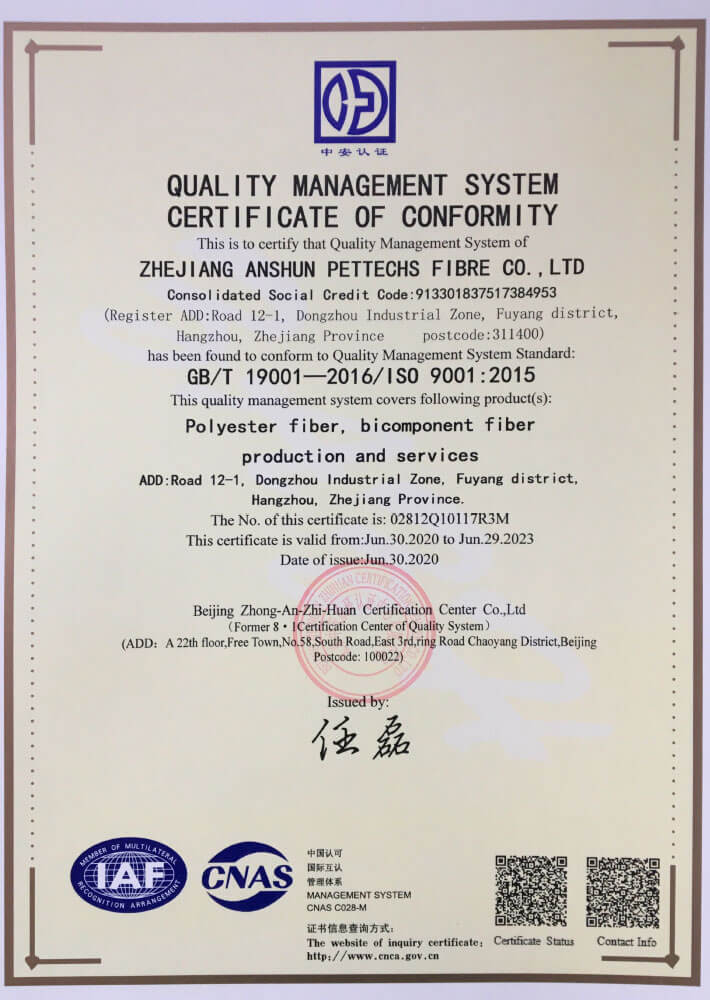 ISO 9001 Certificate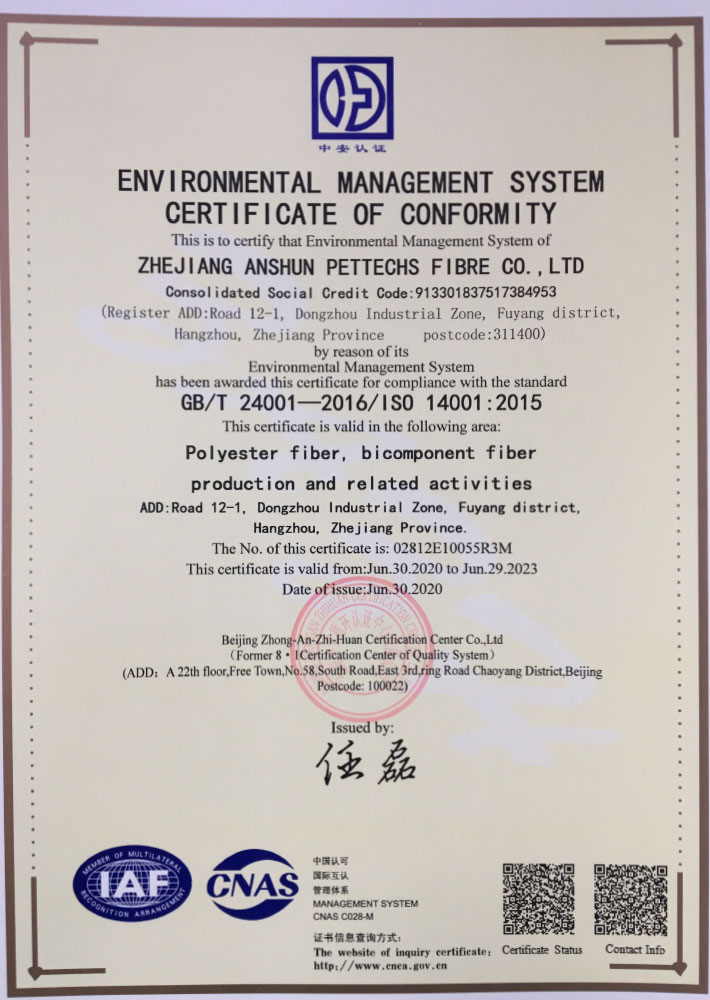 ISO 14001 Certificate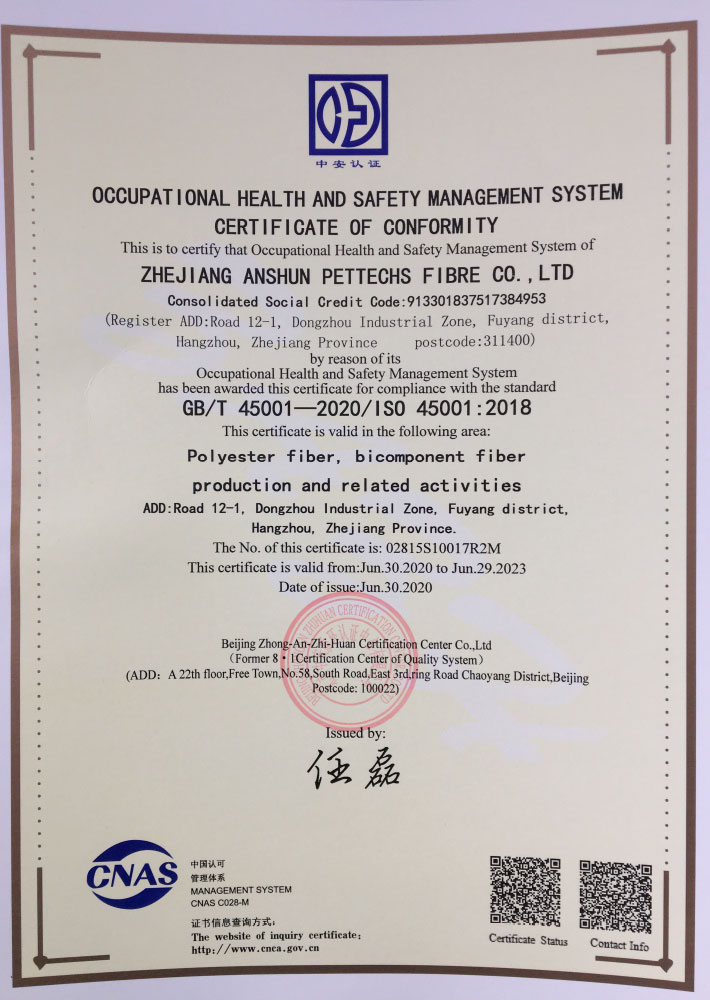 ISO 45001 Certificate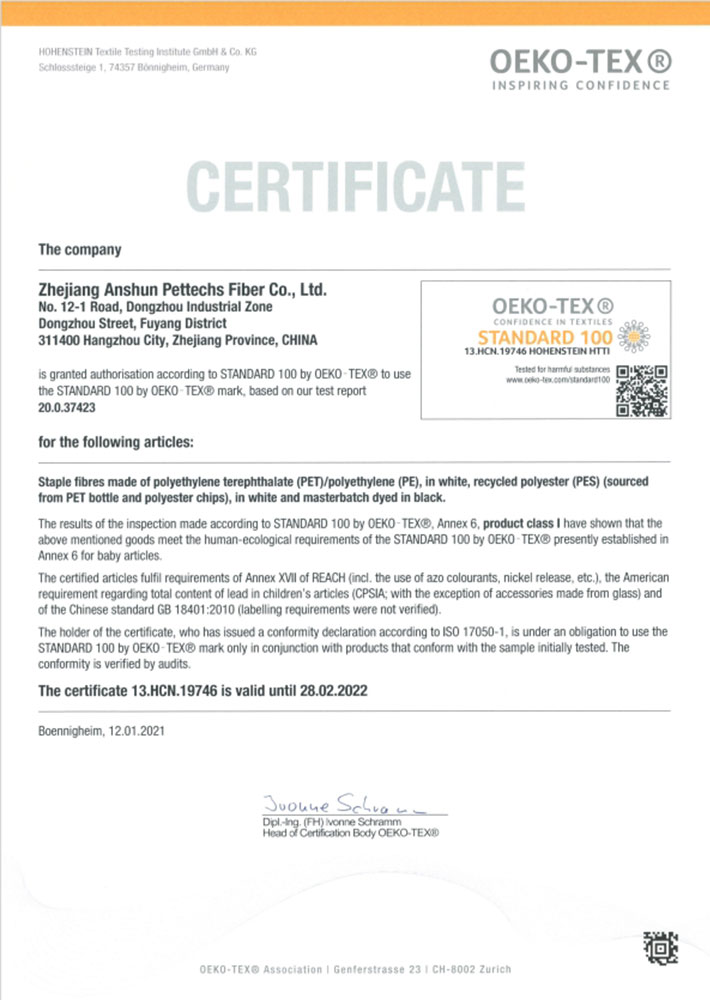 OEKO-TEX Certificate
Quality Control
Quality Control Process : Raw Material > Testing > Raw Material Warehousing, Receiving > Raw Material Formula > Production > Product Quality Control > Product Testing > Packaging > Warehousing > Sale > Logistics > Customer
Introduction of R&D Center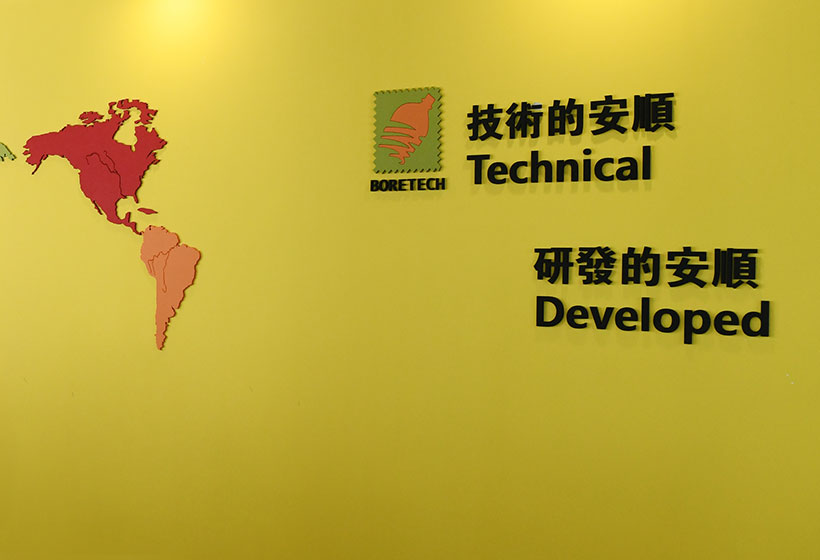 The first to fifth floors of the R&D building have a total area of 1,500 square meters. The equipment has a 100 kg/h polyester staple fiber pilot-run line, which can produce small quantities of one-component and two-component fibers, and is equipped with experimental hot-air non-woven fabrics and needle-punched non-woven fabrics. The non-woven production line and various fiber and non-woven fabric inspection instruments can produce fibers and non-woven fabrics in small batches in the shortest time, and complete various inspections of fibers and non-woven fabrics, speeding up the development process.

The R&D center is fully equipped. In addition to self-development, our customers are also welcome to use our R&D equipment to jointly develop products. Our company will rely on integrity, professional capabilities, mutual compliance with trade secrets, and do the best customer service work.
Equipment List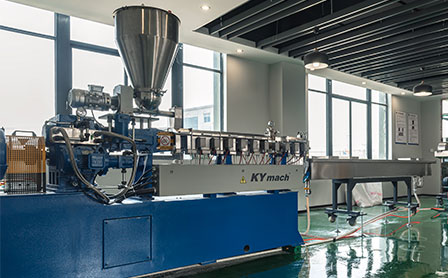 Twin Screw
Spinning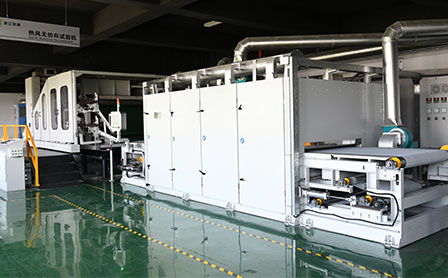 Non-wovens Experimental Equipment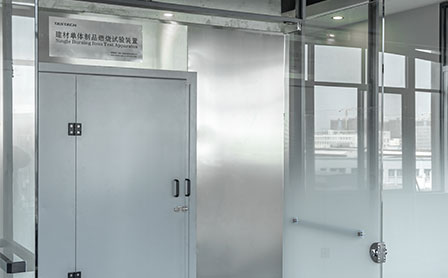 Flame Retardant Laboratory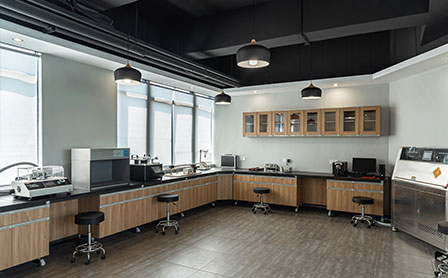 Non-woven Lab
Benefits of R&D Center
● Website & MSDS & TDS
● Rapid development
● Determine the specifications
● 100 kg samples can be used for pre-paving
Customer Service and Joint Development
Anshun R&D Center : It is a unique development unit of domestic fiber mills, integrating the three stages of modified granulation, spinning fiber and non-woven fabric.
| Team | Process | Time | Joint Development |
| --- | --- | --- | --- |
| Engineers for customer | ISO work flow | Rapid development | R&D to R&D |
Patent Status - Fiber
Country
Invention
New Pattern
New Type
Total
Being Processed
Obtained
Being Processed
Obtained
Being Processed
Obtained
Being Processed
Obtained
China
2
6
8